Royal Canin Gastrointestinal Fiber Response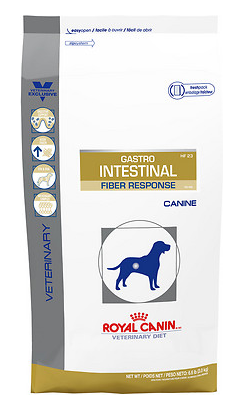 Royal Canin Gastrointestinal Fiber Response
Royal Canin Veterinary Diet Gastrointestinal Fiber Response Dry Dog Food
The gastrointestinal tract includes the esophagus, stomach, small intestine, large intestine, and colon. Therefore, gastrointestinal disease is defined as any abnormality involving one or more of these structures. By feeding your pet a diet that contains precise amounts of key nutrients, you can:
Help minimize vomiting, diarrhea,or constipation.
Help to support and improve the function of the gastrointestinal structures.
Maintain or improve appetite.
The GASTROINTESTINAL diet is formulated to help maintain the balance of gastrointestinal microflora and intestinal mucosal integrity
Key Benefits
High level of insoluble fiber aids in the management of fiber responsive colitis and diarrhea.
Eicosapentaenoic and docosahexaenoic acids help nourish the digestive system.
Bag Weight: 17.6 Lbs